The mission of WHET is to provide opportunities for members in higher education to engage in cultivating their personal and professional potential.
FEBRUARY 2017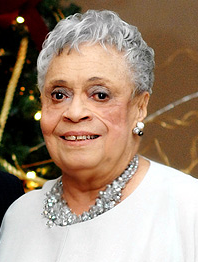 Have you ever noticed how certain people just brighten the room when they enter it?
This month's professional development is highlighting Maxine Smith. Her contributions are too numerous to list, but please check out this link: http://www.thehistorymakers.com/biography/maxine-smith-41.
She was an amazing woman who left huge shoes to fill!  While I never had the pleasure to really know her well, I made some assumptions and observations about this woman through her work with the Tennessee Board of Regents.
What I observed was someone who cared deeply for all.  She smiled all the time. She was a worker.  She had a sense of humor.  And she worked tirelessly for the "right" thing.  I never saw Maxine rush or be rude towards anyone ever.
So, my question to you is: Are you a 'mini Maxine'?  Do you make the room brighter or darker when you enter?  I promise, we do one or the other every day!
You may not feel like a mover and shaker but your daily reactions to life affect/effect many others in a positive or negative way.
What will people say about you after you are gone? Folks may not remember what you wore or even what you said, but certainly they will remember how you made them feel.  While we can't all be a Maxine, we can all make a difference every day for those around us.
JANUARY 2017

WHET 2nd Vice President issued the "Ten Minutes Professional Development (PD)" challenge for 2017. The Ten Minutes PD challenge purpose is to spend ten minutes a month reading or visit website(s) with information to assist us in our personal and professional lives. If you accept the challenge, here are some resources to get you started: