2016 – 2017 EVENTS
2017 WHET Annual Conference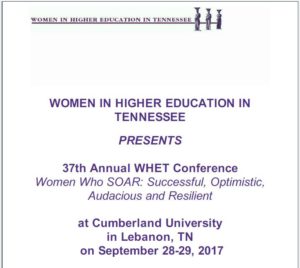 Hotel Information:
Please have attendees mention Women in Higher Education Conference. This rate will expire September 6 at midnight.
Comfort Suites
904 Murfreesboro Road
Lebanon, TN 37090
615-443-0027
Single/Double – State rate $91.00 + tax
LaQuinta Inn & Suites
140 Dixie Avenue
Lebanon, TN 37090
615-470-1001
Single/Double – State rate $98.10
2017 WHET West Tennessee Regional Conference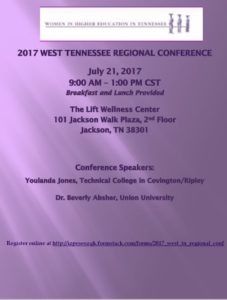 Register at http://izpeseozqk.formstack.com/forms/2017_west_tn_regional_conf 
2017 WHET Annual Conference- Call for Proposal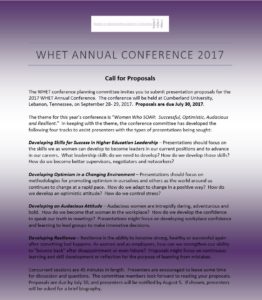 Submit a proposal at http://izpeseozqk.formstack.com/forms/whet2017proposals
2017 WHET Middle Tennessee Regional Conference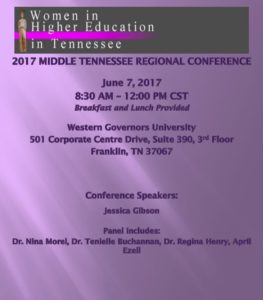 Register online at  http://izpeseozqk.formstack.com/forms/2017_middle_tn_regional
2017 WHET East TN Regional Conference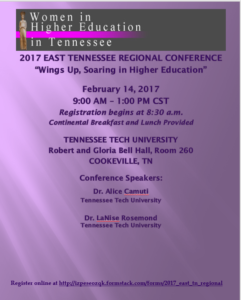 2017 ATHENA Awards Program
March 30, 2017 at OZArts Nashville located at 6172 Cockrill Bend Circle, Nashville, TN
Visit https://nashvillecable.org/advocacy/athena/ to purchase event tickets
WHET Executive Board Meeting
December 6, 2016
Congratulations to our 2016-2017 ATHENA Award Nominees!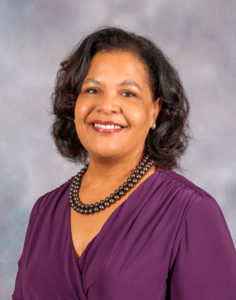 Wendy Thompson, JD
Wendy Thompson is Vice Chancellor for Organizational Effectiveness and Strategic Initiatives for the Tennessee Board of Regents, one of the largest higher education systems in the nation. She joined the TBR staff in 2001 as special assistant to the chancellor and later served as vice chancellor for access and diversity, prior to assuming her current position in 2011.  During her early tenure at TBR she coordinated the system's compliance with the terms of a federal Consent Decree that brought to an end the state's long standing desegregation in higher education lawsuit. She later coordinated the system's first comprehensive diversity planning process.  In her current role as vice chancellor, Thompson leads a cross-functional team that monitors progress of system strategies to increase student success, in compliance with the Governor's Drive to 55 initiative.
Dr. Thompson's career in higher education began at the University of South Florida where she served as the principal legal officer in the area of labor, faculty relations, employment and civil rights.  She then served as university counsel and assistant to the president at Middle Tennessee State University prior to joining the TBR staff.
Dr. Thompson has represented Tennessee higher education at institutions and convenings nationally and internationally – presenting on a variety of topics including post-tenure review, diversity, and student success.
She was honored as a Woman of Legend and Merit in the field of education by Tennessee State University in 2015.   Her professional and community service includes:  Former member of the Women's Network Executive Council of ACE (liaison to Tennessee and Mississippi); Leadership Nashville Class of 2016; Member of the board of directors of RePublic Schools Nashville (former board member for Nashville Prep – a member of the RePublic Schools network); Member of the board of directors of Olive Branch Church; Member of the YWCA of Middle Tennessee Advocacy Committee; Charter board member of the Nashville Coalition of 100 Black Women Foundation.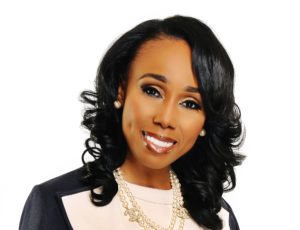 Tameka Winston, Ed.D.
Dr. Tameka Winston is the Department Chair and an award-winning Professor in the Department of Communications at Tennessee State University. She is also an author and Sirius XM radio host. Winston has been working at the collegiate level for 15 years in various roles. She has advised and mentored many students during her time at the TSU. Winston's passion for education has helped her earn several recent accolades.
She was among the finalists for the 2016 Nashville's Emerging Leaders Awards. The awards are sponsored by the Nashville Area Chamber of Commerce and YP Nashville. Winston received the 2015 Woman of Achievement Award at the 35th Annual Women in Higher Education in Tennessee conference. Past award recipients include Dr. Shirley Raines who is the first female president of the University of Memphis. The Woman of Achievement Award is presented to a dedicated leader who has earned admiration and respect, has vision and leads by example, faces challenges with grace and courage, and lives with dignity, integrity and honor.
Nashville Lifestyle Magazine also named Winston one of Nashville's 25 Most Beautiful People. She appeared in the magazine's October 2016 edition that's currently on newsstands and stores across the state.
Winston was awarded the 2015-2016 Professor of Year Award by the College of Liberal Arts. She was also awarded the 2012-2013 Professor of the Year Award by the College of Liberal Arts. She co-authored and published a textbook, Understanding the Speechmaking Process. Winston was also chosen to serve as co-author for the 3rd Edition of Mass Media Revolution. She researched and developed the print curriculum for the department, which incorporates new media technologies and multimedia convergence.
Not only was she chosen as one of the Nashville Business Journal's Top 40 Under 40 but she was also selected as one of the Network Journal's 2015 "40 Under Forty" Dynamic Achievers in the United States. The national award recognizes outstanding young African-Americans who are "Reaching for Higher Goals" in their careers while remaining dedicated to their community's development. Notable past honorees include renowned journalist Soledad O'Brien. Winston was also recognized as one of the Nashville Business Journal's Top 40 Under 40.
She has been featured in various print and broadcast media outlets including Fox 17/ WZTV, WKRN, The Tennessee Tribune, Nashville Business Journal, The Tennessean and many more. Winston is a Young Leaders Council alumna. She's also very active in the Nashville community and serves on several boards.
2015 – 2016 EVENTS
Middle Tennessee Regional Conference
June 10, 2016 at Belmont Campus (Williamson County)
Keynote Speaker:  Dr. Emily Siciensky, "A Pathway in Unchartered Territory"
36th Annual Conference
October 6-7, 2016 at Columbia State Community College – Williamson Campus (Franklin, TN)
Keynote Speaker:  Dr. Mamie McCullought, "I Can.  You Can Too!"
2014 – 2015 EVENTS
WHET Day on the Hill
March 4, 2015
Annual Conference
October 22-23, 2015 at Middle Tennessee State University (Murfreesboro, TN)
"Pathways to Success"
2013 – 2014 EVENTS
WHET Day on the Hill
March 6, 2014
Middle Tennessee Regional Conference
March 7, 2014 at Volunteer State Community College (Gallatin, TN)
"Women Mentoring Women:  Guiding, Promoting, Supporting (GPS)"
East Tennessee Membership "Lunch & Learn"
April 4, 2014 at Pellissippi State Community College (Knoxville, TN)
Webinar: "Exploring Your Online Education Options"
May 29, 2014
Institutional Representative Meeting
May 29, 2014 at Columbia State Community College (Franklin, TN)
West Tennessee "Lunch & Learn"
September 5, 2014  at Tennessee College of Applied Technology-Jackson
Annual Conference
October 9-10, 2014 at Middle Tennessee State University (Murfreesboro, TN)
Keynote Speaker:  Dr. Idahlynn Karre